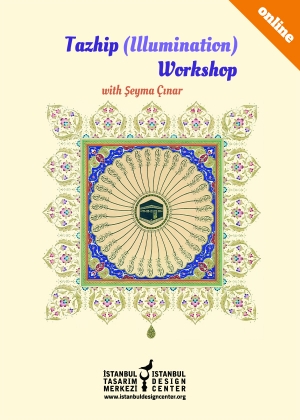 Online Tazhip (Illumination) Workshop
As the Istanbul Design Center, we are starting online education in Tazhip the Illumination Art! In the first 4 months of the 8-month long education period, we plan to complete the first term with video lessons on leaf and flower drawings.
In the following 4 months, we will be transitioning to the countouring work and subsequently following the painting stages of small motifs used in illumination. In the online course hours, we will also try to study your work.
We ask our students who attend the courses to watch the videos given as weekly lectures and to send the photos of their work and their homework one day before the online course day.
We will continue our lessons with new assignments and video recordings given every week. If you want to learn the art of illumination via distance education online, you can join our courses.
Workshop Schedule
1st Semester: 3 March - 23 June, 2021
Wednesdays 16:00 - 18:00
Duration: 4 months
2nd Semester: 7 July - 27 October, 2021
Wednesdays 16:00 - 18:00
Duration: 4 months
Our workshop will be conducted in Turkish, and translation into English will be provided.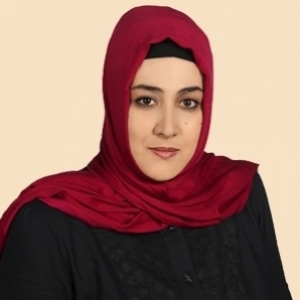 Seyma Cinar
She was born in 1976 in İstanbul. She started her education at Sema Nakışhanesi by taking lessons from Semih İrteş and Mamure Oz in 1998-2000. She graduated Turkish Decorative Arts Illumination Course from the Turkish Ministry of Culture in 2001. In 2004, She took flower painting and miniature lessons from Orhan Dagli at Turkish Islamic Arts Library. She started to give illumination lessons in her own art studio. She started to take miniature design lessons from Reza Hemmatirad at Istanbul Design Centre. In 2010 The Artist received Traditional Turkish Handicrafts Certification and Artisit Identity Card from Ministry of Culture and Tourism. In 2011, She was in the founding of SANKAD (Artist Women's Platform) at the same time she was board member and general secretary of this platform. She organized many exhibition organizations within the scope of Exhibition and Project Coordination since 2004. She taught illumination at Uskudar Youth Centre in 2014-2017. She started to give illumination lessons at Istanbul Design Centre in 2017. Her works has been exhibited in three personal and 50 group exhibitions. Her works have been published in many magazines and books. She has many illustration, illumination on wood, tile, Edirnekari and ceramic designs.The artist has many works in private and official collections. She still gives lectures on illumination at her own art studio and Istanbul Design Centre.