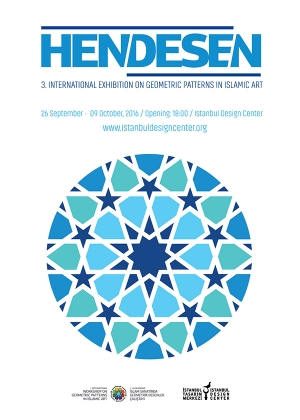 HENDESEN
The 3rd International Exhibition on Geometric Patterns in Islamic Art
26 September - 09 October 2016
Exhibition Opening Reception: 26 September Monday Time: 18.00
Venue: Istanbul Design Center
The "Islamic Geometric Patterns" were applied by complex techniques in various works of art that are extensive in the Islamic world. Examples of the Islamic Geometric Patterns compositions are found not only on the significant monuments of the architecture, but also on: book binding and illumination applications; patterns on carpets and rugs.
The art work made by today's craftsmen and artisans with the applications of Islamic Geometric Patterns will be presented at an exhibition "HENDESEN". The exhibition features the works of local and international artists. Besides our classic arts such as calligraphy, ebru (paper marbling), illumination, and miniature together with the application of geometric patterns in painting, industrial design, jewellery design, nano-art will be also displayed at the exhibition.
*HENDESEN is a combination of the Turkish words Hendese [geometry] and Desen [pattern], which was chosen as a title for the exhibition to be conducted within the frames of the International Workshop on Geometric Patterns in Islamic Art that will bring together and exhibit the design and art work related to the subject.