Geometric Patterns in Islamic Art (foundational-level)
This online course consists of eight weeks Foundation course plus one introduction lecture, covers fourfold and six fold patterns.
The workshop will focus on the fundamental concepts of proportion and relations between different patterns.
Throughout the course you will learn the traditional and inherited techniques handed down by successive generations of craftsmen. The course will be stretched over eight weeks, and one session of three hours every week, a total of 24 hours.
The course structure will be as follows:
1. A three hours session by zoom every Saturday at 10.30 – 13.30 (Istanbul local time), which will be recorded and uploaded to a special platform.
2. During the sessions, participants can engage into discussion or ask question.
3. Any participants who cannot attend the session will be able to view the session videos at any time.
4. In each session, all participants will receive PDF hand out in addition to video recording covering the topics discussed in that session. This will provide the participants with a permanent reference for their work.
5. Every week participants will have assignments to be completed by the participant and examined by the instructor.
The course will cover the following topics:
1. The differences between the major symmetry systems in the Geometric Patterns.
2. The importance of proportions and angles in each type of geometric symmetry systems.
3. The PDF files will include instructions on how to use the tools needed and very clear step by step pattern construction method. 4. Participants will learn how to read technical drawings, which is essential for practicing Islamic Geometric Art. This skill will give the participants the ability to read and decipher any pattern.
5. The course will cover wide selection of fourfold and six-fold patterns found across the Islamic world.
6. All participants are expected to have their own tools ready for the course, i.e. good professional compass, ruler, A4 and A3 paper pad.
The course language: English
Participants: Architects, mathematics teachers and students, artists.
Workshop Schedule
Workshop Date: 19 September – 14 November 2020 / Saturday / 10.30 – 13.30
Workshop Time: 8 Weeks (24 hours) plus introduction lecture
Dear members, due to the large number of enrolled students in our online courses, we decided to close the registration for now. This course will be published again in due time. Thank you to all interested members.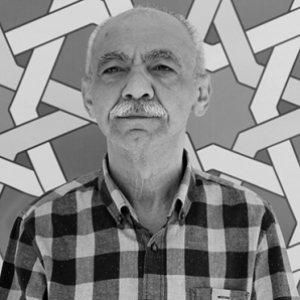 Mohamad Aljanabi
Born in Iraq, and became interested in Islamic Geometric Patterns at a very early age by learning this form of art from his father, who was one of the old masters of this art in Baghdad. Mohamad has more than fifty two years of experience in the field of the Geometric Pattern Art. Studied architecture in the United Kingdom; Several of his exhibitions held in British Universities under the title of "Islamic Heritage to the World"; Founder and director of his own construction company; Worked as IT instructor at "ORCA Human Resources"; Founder and administrator of "Geometric Pattern School / Geometrik Desenler Okulu" group on Facebook; Currently retired and in the process of writing a book on Islamic Geometric Pattern.